by in
Original article by : Dot Esports
Climbing wasn't meant to be easy, but ace these champions and you'll be rising up the ranks.
For a lot of players, ranked can be a frustrating experience in League of Legends. Between the teammates who refuse to coordinate, the vastly different skill levels, and the odd smurf or two, you can sometimes feel like you're going backward. But there are a few champions, if mastered, that can help you beat the system and take you to the next level.
Below are five champions—one for each role—that will help you climb the ranks. They aren't all easy to learn, but they're the kind of champions you've probably already been demolished by and wondered "why are they so good?" Once you master these champions, it becomes easier to learn the mechanics of the lane (or jungle) itself and improve yourself as a player—and then the real climb can start.
With this in mind, let's break down the top five solo queue champions for League's Patch 11.7.
Top lane – Sion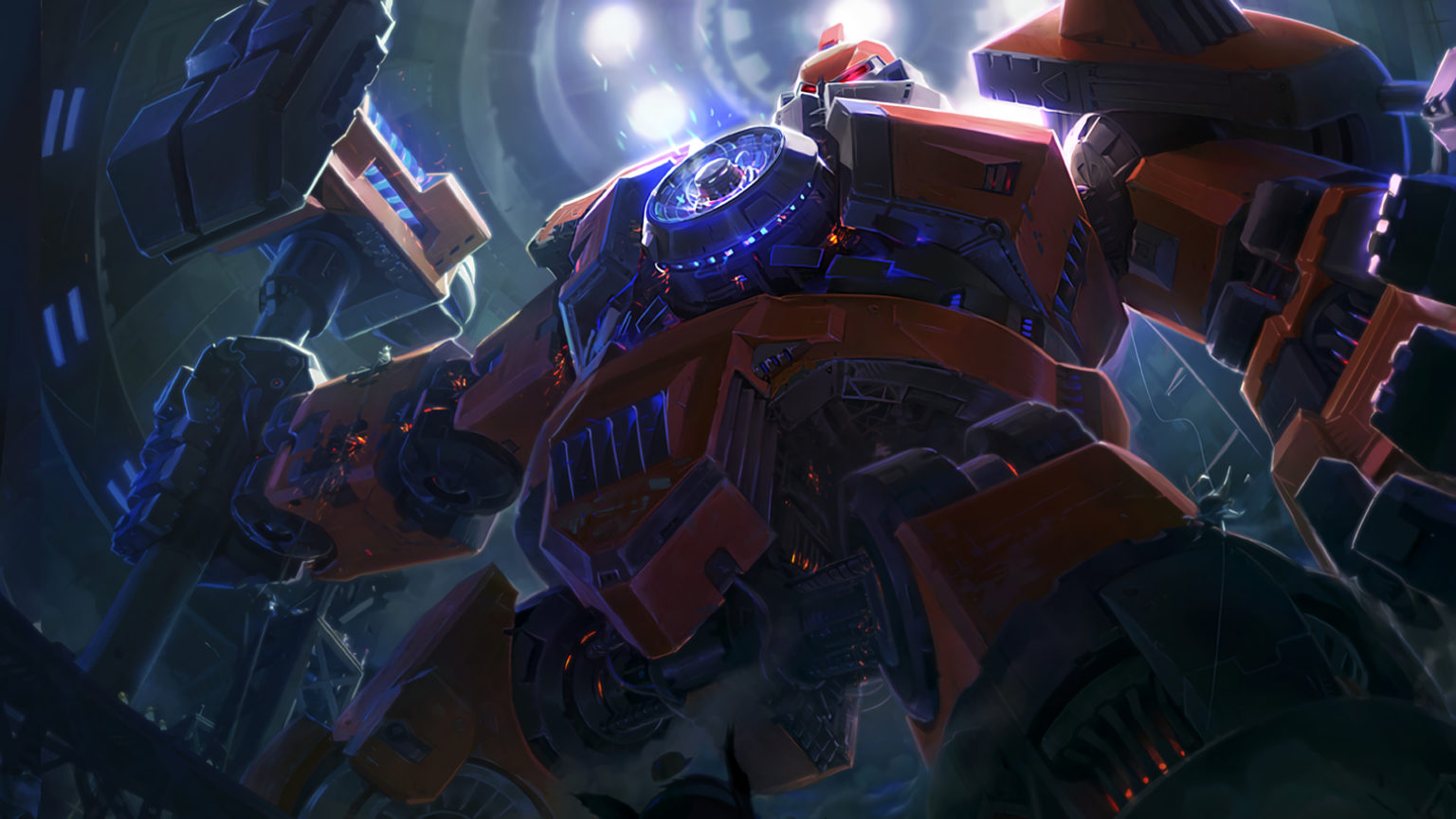 Pros
Well-rounded kit
Infinite health scaling
Easy to play
Cons
Relies on teammates to carry
Sion became popular recently after multiple top laners received nerfs. The champion provides a lot of crowd control, while also having innate tankiness due to the infinite scaling on his W. He can withstand both AD and AP opponents with ease and has a lot of flexibility regarding his items. If you want to be the frontline for your team, feel free to pick Sion and tank all the skillshots from opponents with barely any repercussions. He is slowly becoming the best blind pick top laner in the game and will maintain that status unless players figure out a decent counter in the current meta.
Item build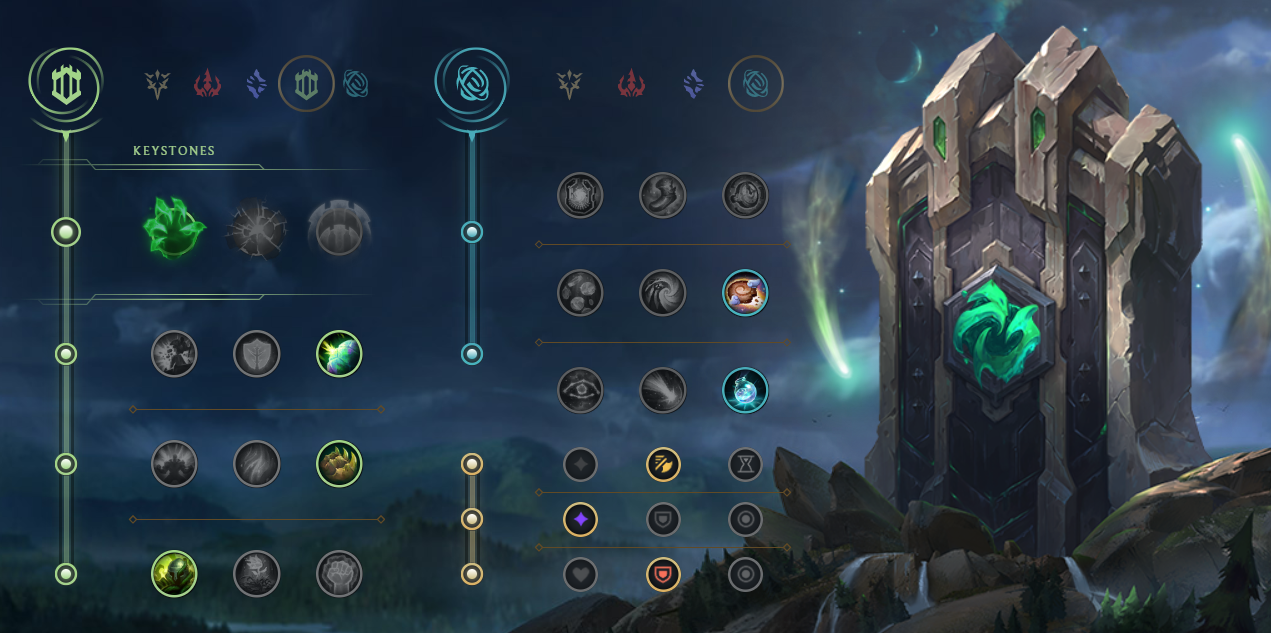 The primary rune page you should take as Sion is Resolve. It gives you access to various great runes such as Grasp of the Undying, Shield Bash, Bone Plating, and Overgrowth. Grasp of the Undying with Overgrowth are mostly aimed to make you tougher to kill in the mid to late game, while Bone Plating and Shield Bash are early-game runes to help your laning phase.
The secondary rune page is Inspiration for the Biscuit Delivery and Time Warp Tonic. Both will help you out early on and improve your mana regeneration which is a major problem due to your high mana costs. Since you want to start with Corrupting Potion to fix your mana issues, Time Warp Tonic will improve your sustain by a lot.
Ability priority
Sion's skill priority is R>Q>W>E. You want to max your Q since it is your primary wave clear and damage ability against the opposing champion. Afterwards, prioritize W for the additional shield and maximum health damage increase. E is maxed last due its lower utility compared to Q or W.
Game plan
Sion is one of the easiest top laners to play, and he has a well-rounded kit with clearly defined power spikes. You have a lot of tools to either do damage or crowd control the opposing team. But early on, you are quite squishy and due to your high mana costs you need to be careful to not get harassed too much. If you do, you can fall off and become an easy target for ganks since you don't have mobility spells outside of your ultimate.
Aim to acquire a Frostfire Gauntlet as your first item since it will allow you to control the teamfight pace better and the stats of the item are great overall. You will get health, armor, magic resist, and ability haste, four great stats which benefit you a lot. As the game goes on and you scale, look to group with your team and attempt to go for plays with your ultimate on the opposing squishy carries. Early on you can blow them up easily with your basic combo if they're not careful enough and get hit by your ultimate.
Jungle – Hecarim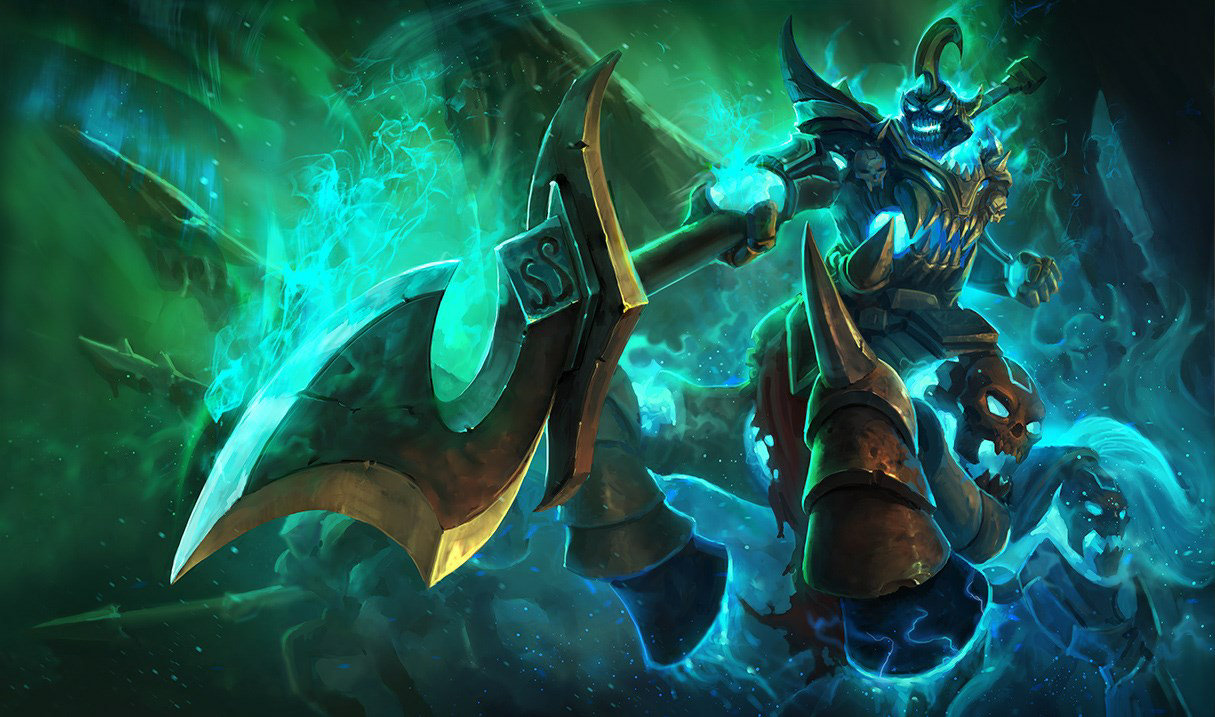 Pros
Strong duelist
Mobile
Easy to play
AoE crowd-control ultimate
Cons
Hecarim rose in the jungle ranks of solo queue silently over the course of the past few patches. As more people realized how strong he is, his pick rate suddenly increased alongside his win rate. He benefits a lot from the latest item rework, making him one of the best junglers in the current patch to climb.
He is quite easy to play and can be picked up by any player, including non-junglers. His playstyle relies on you getting in and spamming Q, while sustaining yourself with items and runes to wither down the health pool of your opponents.
Item build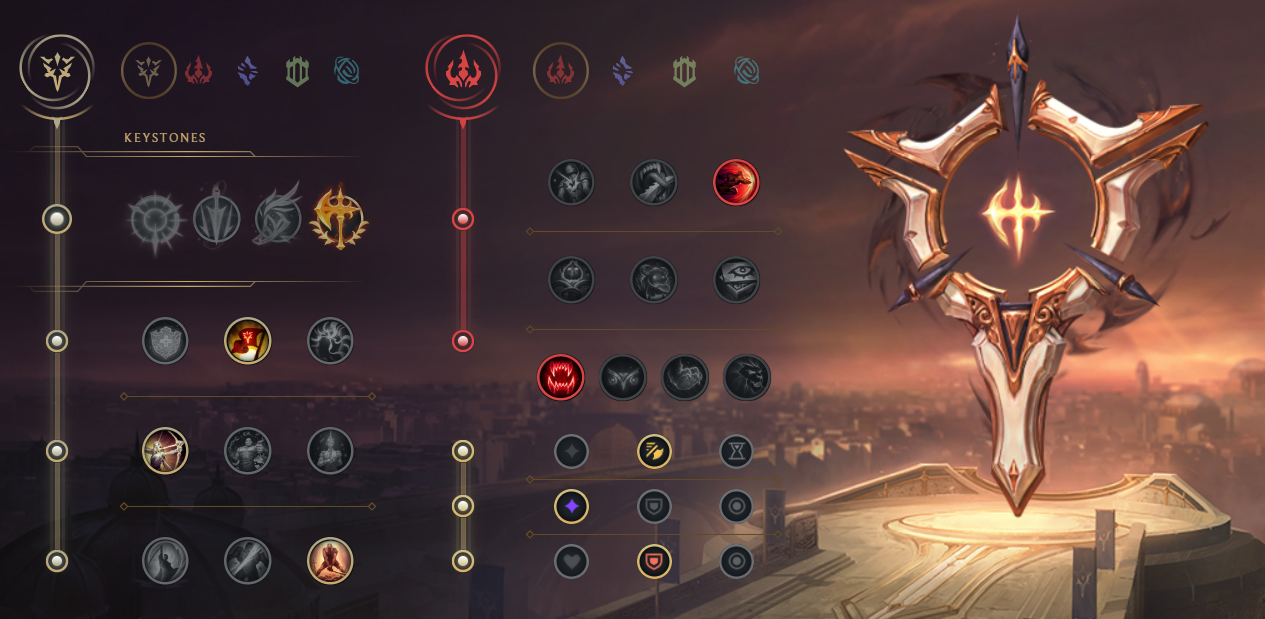 Hecarim has plenty of viable rune pages, but the most successful one currently is Precision primary with Domination as a secondary tree. Precision grants you access to Conqueror, one of the strongest keystones in the game, giving you a lot of attack damage and healing on top of being easy to stack up. Other great runes are Triumph to help your low-health escapes, Legend: Alacrity to increase your attack speed, and Last Stand to make you deadlier the lower your health is.
Domination is taken primarily for Ravenous Hunter, which synergizes well with Conqueror. These two runes combined give you a lot of healing, making you deceptively tanky. Sudden Impact is taken since it will get easily activated with your E to increase your damage.
Ability priority
Hecarim's skill priority is R>Q>E>W. Maxing Q allows you to farm camps easily and do as much damage as often as possible. It is a primary requirement for this build, where you need to be spamming Q's to proc Conqueror and Ravenous Hunter. E is maxed second for the movement speed and W is a pretty subpar ability, so is maxed last.
Game plan
Hecarim is currently in a pretty good place in the jungle. Your goal as a Hecarim jungle is to clear your camps as soon as possible and look for opportunities to gank any lane. If you see no such opportunities, focus on getting the crabs in the river for additional vision or the Rift Herald alongside the dragon. But remember to keep farming camps for the gold income to ensure you can get your core items as soon as possible.
Once you get a Mythic item such as Trinity Force or Turbo Chemtank, you will become much stronger, so try to keep your gold income steady to get it as soon as possible. Due to the fact that your gameplay is predictable, try to look for countergank opportunities instead of a gank. It's much easier to get a kill in such cases instead of a gank.
Mid lane – Katarina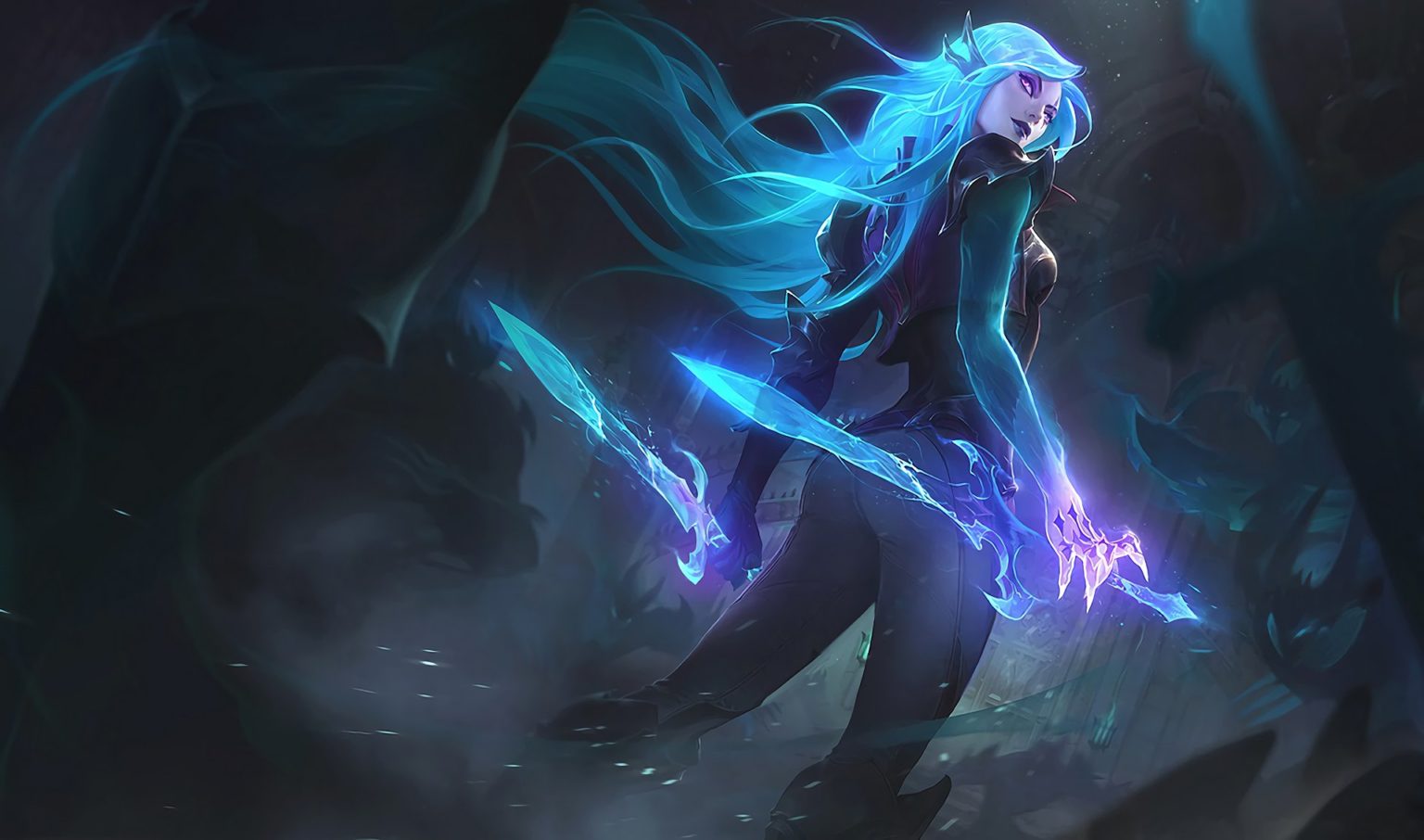 Pros
Powerful burst damage
Can take over games alone
Rewarding if mastered
Flexible build
Cons
Relies on a roaming playstyle
Squishy
Katarina is one of the most powerful mid laners after having received multiple buffs in recent patches. She is becoming a menace in the solo queue due to her flexible build, which allows her to counter various champions easily. If left uncontrolled, she can snowball and take over games with her roaming playstyle. Her dash allows her to bypass terrain easily and gank from unexpected angles, giving her team plenty of opportunities to set up ganks.
Item build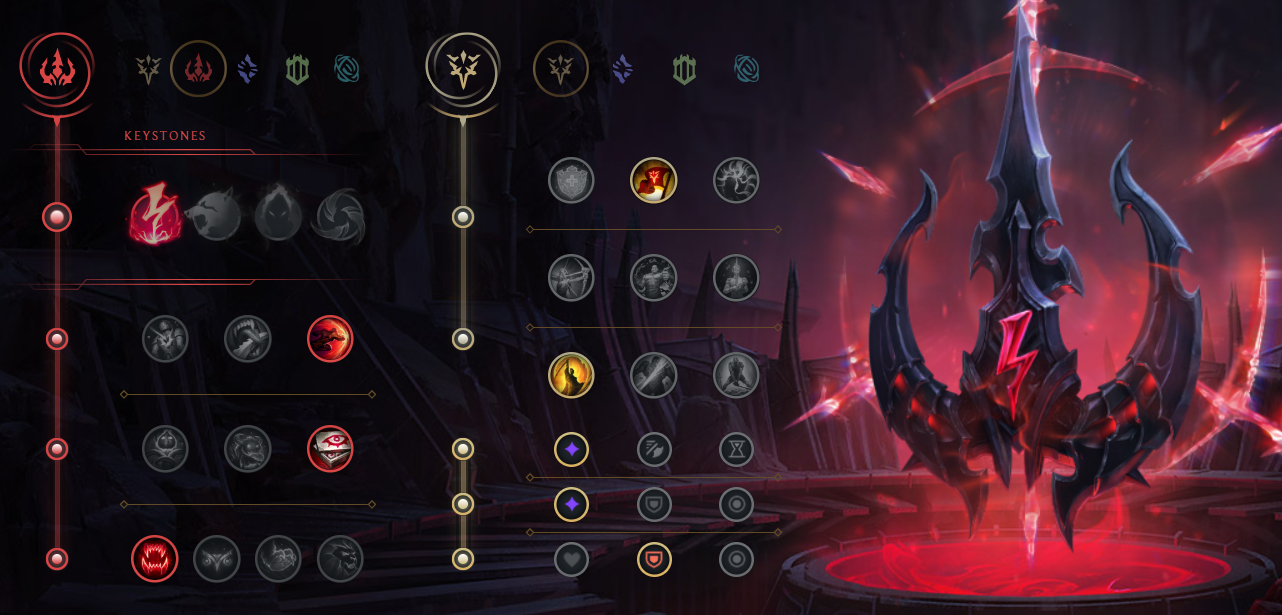 The two core rune builds for Katarina are either Domination primary with Precision secondary or vice versa. The most important aspect is to decide whether you need the burst from Electrocute or the sustain from Conqueror. 
The rune page with Electrocute gives you access to more damage early on via Sudden Impact and Eyeball Collection on top of sustain with Ravenous Hunter. The secondary precision tree is picked up for Triumph and Coup de Grace. The first one is aimed to help you escape after low-health plays, while the second is picked up for the additional damage to secure the kill against your opponents.
Ability priority
Katarina's skill priority is R>Q>E>W. Maxing Q first is your priority since it gets a lower cooldown with each rank up and is your main damaging ability. It also helps you by putting a dagger on a location, to which you can jump with E. Your mobility spell therefore should be maxed in accordance with Q to be able to jump around as much as possible and be a huge nuisance for the opposing team. W is maxed last since the utility and power of Q and E are much higher.
Game plan
Katarina is one of the strongest mid lane assassins and excels at taking over games with a couple of early-game kills. Your low cooldowns combined with your high base damage give you plenty of opportunities to snowball. You should use this to your advantage and look for proactive plays during the laning phase.
If you try to adapt a passive playstyle, you won't be useful in the long-run and the enemy can outscale and shut you down. Keep up an aggressive playstyle and try to win your lane. After you do, you'll be able to freely roam the map and either kill the opposing jungler or help your side laners.
ADC – Tristana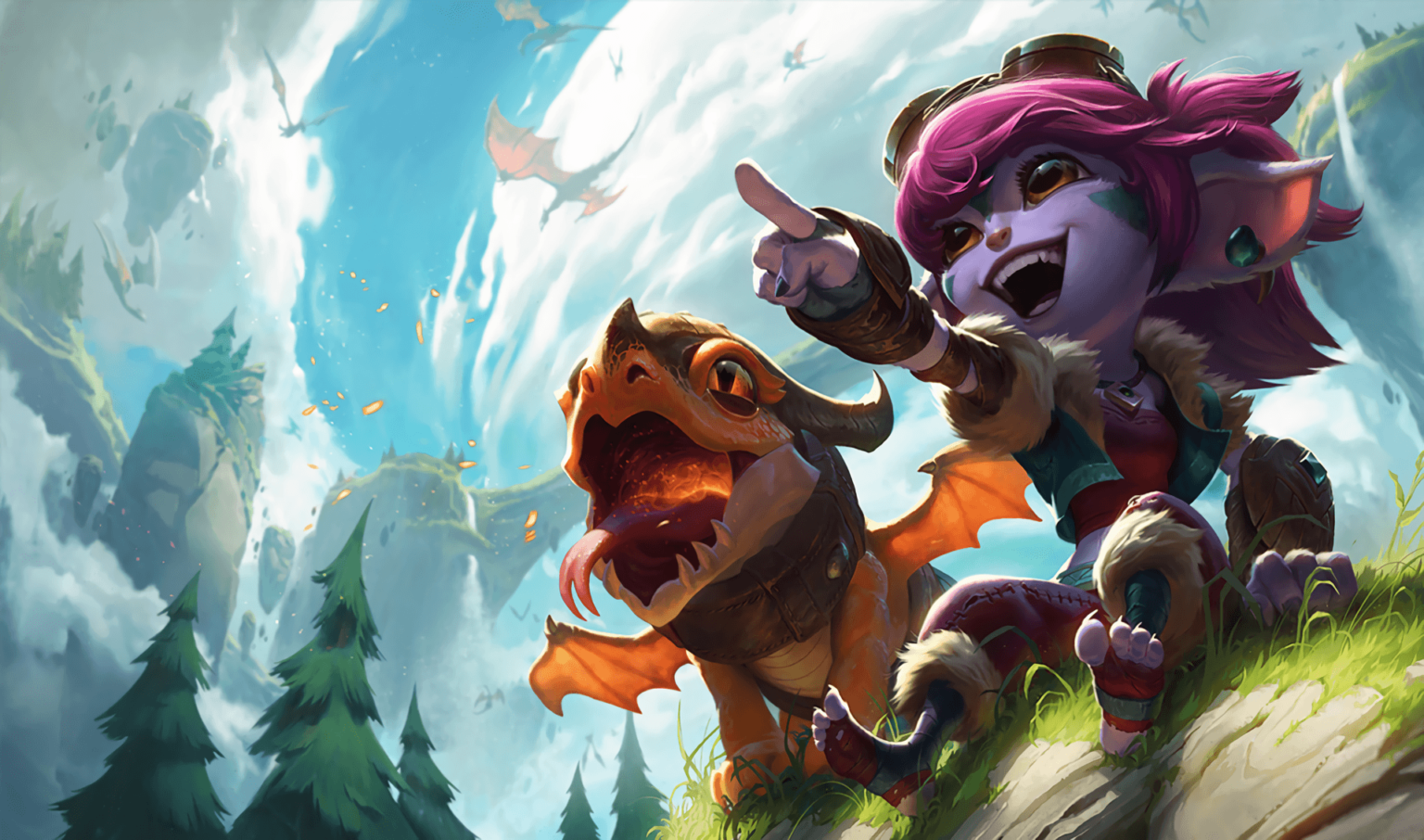 Pros
Mobile
Strong burst damage
Attack speed steroid in kit
Cons
Tristana recently became more popular after nerfs to other meta ADCs. She is a great answer to Kai'Sa, who is currently the most dominant bottom laner. With a lot of mobility, strong burst damage, and an attack speed steroid in her kit, Tristana is here to stay in the meta for a long time.
With plenty of viable build paths, you can pick Tristana into any composition and build her accordingly to ensure you have the highest chance to win your solo queue games. While she does have plenty of strengths, she has a weakness in that she needs time to get going in a game.
Item build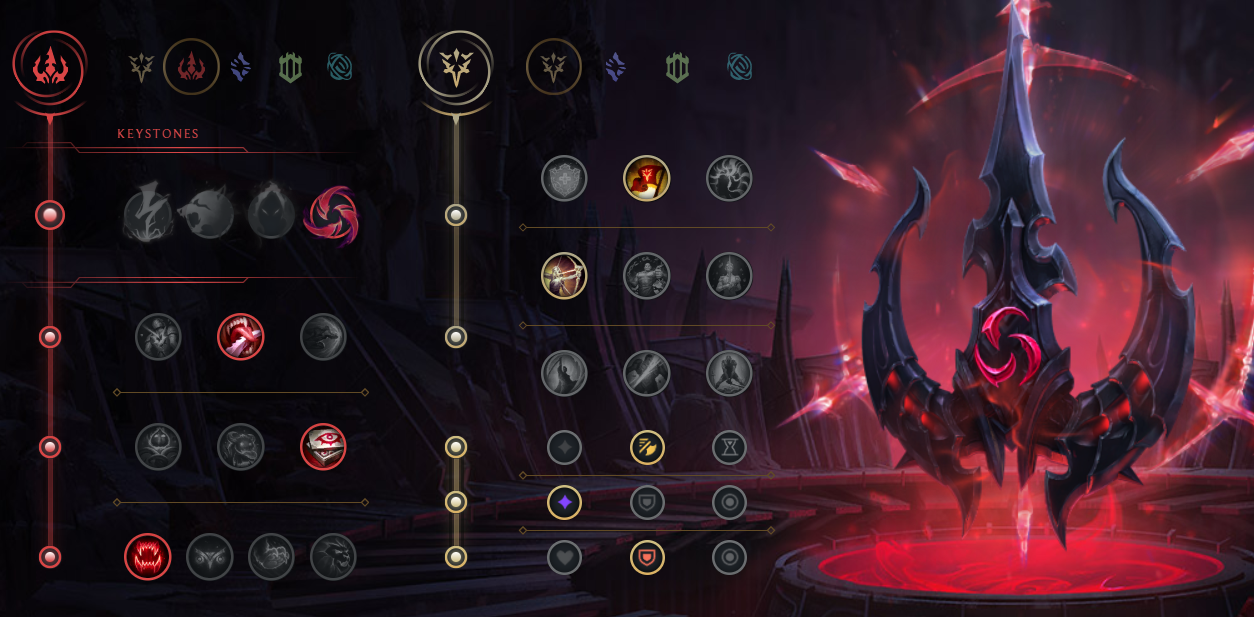 The core tree you should aim for in all games by default is Domination for the Hail of Blades keystone. It allows you to get favorable trades early on while you are weak and have a chance at killing low-health opponents due to its huge burst damage. On top of that, Domination gives you access to two sustain runes in Taste of Blood and Ravenous Hunter alongside some additional AD from Eyeball Collection.
The secondary tree is Precision for Triumph and Legend: Alacrity. The first one will help you survive low-health encounters, while the second is aimed to make your attacks more fluid early on while you lack attack speed items.
Ability priority
Tristana's skill priority is R>E>Q>W. Maxing E is a priority since it is your main poke, burst, and waveclear ability. It can also help you pick up early tower plates if the enemy bottom lane went to base. Afterwards you want to prioritize maxing Q for the additional attack speed granted. W is maxed last due to it being used mostly for the mobility, which is reset on takedown anyways.
Game plan
Tristana is one of the strongest late-game hyper carries. She excels in long matches due to the increased range from her passive, which allows her to safely do damage from afar. But to reach that point, you'll need to scale, play passively during the laning phase, and avoiding exposing yourself to your opponent. By slowly farming up and only going for aggressive trades or plays when you are in sync with your support, you'll have an easier time to reach the mid-game where you start becoming a huge nuisance for the opposing team.
Support – Rell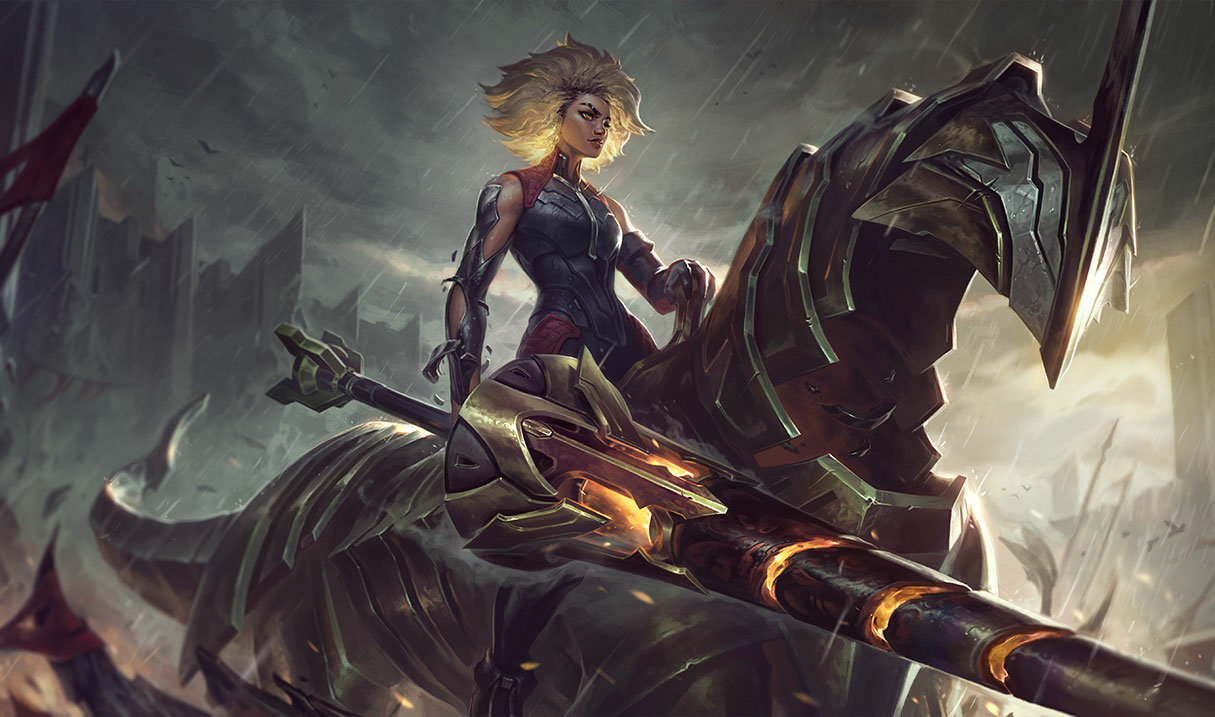 Pros
Great initiator
Strong AoE control
Innate tankiness
Cons
Rell is the latest support addition to League. She has a great kit and is the dream of any engage support player. She feels great to play and has a lot of utility for her team. She works great in the current meta with her initiation tools. While she might have some issues dealing with enchanters, they're underrepresented right now due to the power that engage supports have.
Item build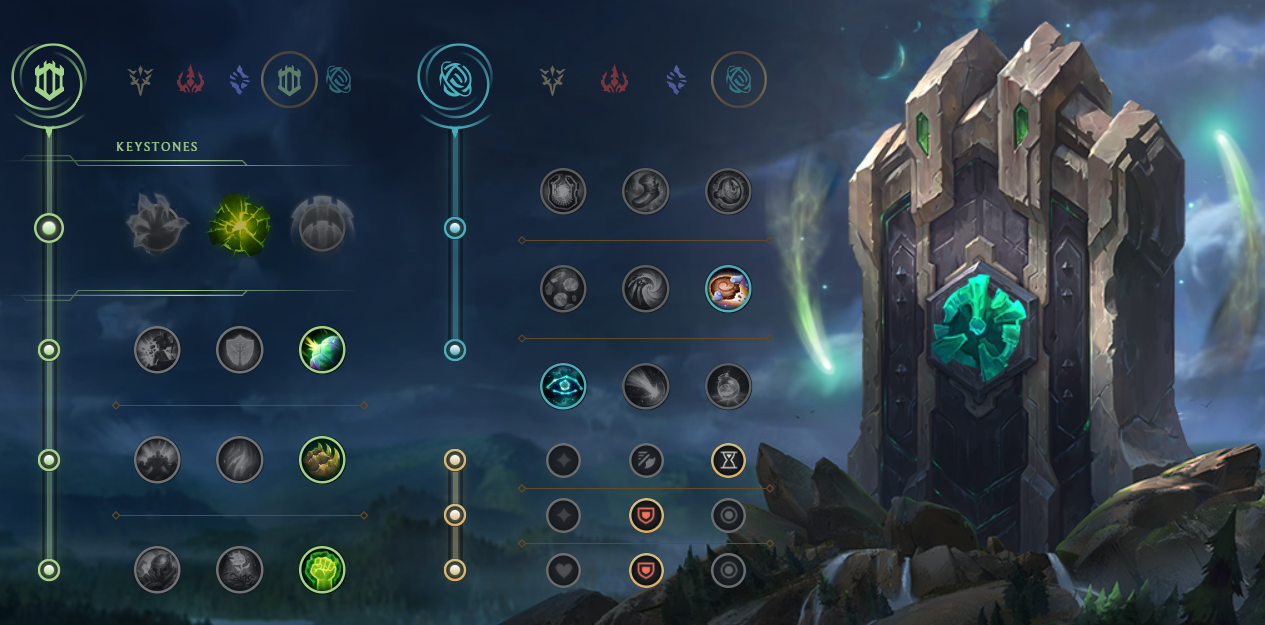 The Resolve primary tree is the core for tanky engage supports. Aftershock is the best keystone since it lets you absorb more damage in the first couple of seconds after an engage. Shield Bash allows you to have a bit more pressure during the laning phase alongside Bone Plating, while Unflinching will provide you with additional Tenacity and Slow Resist.
The Inspiration secondary is designed to give you more sustain in lane and increase your mana cap since your mana costs are high. Biscuit Delivery alongside Cosmic Insight are the best runes you should take in your games. The increased summoner spell and item haste will allow you to engage more often.
Ability priority
Rell's skill priority is the following: R>W>E>Q. You want to max your W ability early on since it's your main crowd-control and defensive spell, which allows you to annoy your opponents during the laning phase. Then, you want to max E for the additional magic resist, armor, and reduced cooldown to stun enemies more often. Q is maxed last since its utility is lower compared to W or E.
Game plan
Look for ways to engage on the enemy laners when they want to go for a last-hit on cannon minions. They'll be focused on getting it and might not be prepared for you to engage. Try to use Shield Bash for additional burst damage at the beginning of the fight. You can dominate the laning phase by engaging often on the enemy laners. You should spam use your W on cooldown to crowd control the opposing laners and gain early leads.
In teamfights, use your E on allies that give the chance to stun as many opponents as possible. Then, you can look to follow up with your ultimate to give your team enough time to do damage to the opposing team. Look to keep good map coverage over the course of the game to ensure that you can go for objectives uncontested. While going for offensive plays is overall a good tactic to win teamfights, try to peel for your allies if they're being overwhelmed by assassins or backline divers and they're forced to run.